Use this slideshow to introduce students to ancient Egypt—when pharaohs ruled and pyramids were built. This mini-lesson presents a general overview of the defining characteristics of ancient Egypt.
Excerpted from
Eyewitness: Ancient Egypt
This book provides an in-depth, comprehensive look at ancient Egypt with a unique integration of words and pictures. DK's classic look at ancient Egypt, now reissued with a CD and wall chart.
Receive 20% off your DK purchase with promo code DKCLIP.
Objective
Students will learn about some of the defining characteristics of ancient Egypt, including pharaohs and pyramids.
Suggested Time
15 minutes
Reading Level
Upper Elementary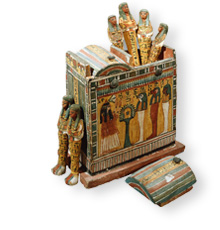 Teacher Background
The king was not only the most powerful and important man in Egypt—he was thought to be a god. He was known as the
Read more
Continue the Conversation
Invite students to share what they have heard about ancient Egyptian culture. Some may mention Cleopatra. She was the last pharaoh to rule Egypt before the country came under the control of Imperial Rome.
Write about it
Ask students to imagine that they are a newspaper reporter who is writing about the discovery of King Tut's tomb. Encourage them to tell readers why they think the discovery is important.
Lesson Contents
TEACHER RESOURCES
Extension Activities
Reinforcements
The Age of the Pharaohs Word Power
Grade: 4 - 6
Students practice vocabulary relevant to ancient Egypt by reading the definition and using the word in a sentence.

The Tomb of Tutankhamen
Grade: 5 - 8
Students read an overview of the discovery of Tutankhamen's tomb, and complete related activities to extend their understanding.