The Ghost in the Tokaido Inn
by Dorothy and Thomas Hoobler
Page 1 of 2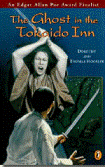 Fourteen-year-old Seikei wants nothing more than to become a samurai. Unfortunately, in 18th-century Japan, samurais are born; not made. Seikei must become a tea merchant because his father is one. But after witnessing the theft of a priceless ruby by a ghost, the young boy's courage is tested in more ways than one. Can he prove himself worthy of samurai fame?
To buy this book, click here or on the book cover.
Enrichment Activities
Internet Resources
Books by Dorothy and Thomas Hoobler
---
Enrichment Activities
Activities for Any Book
Use one of these adaptable and cross-curricular activities with The Ghost in the Tokaido Inn to enhance your students' literary experience.

Conflict Dissection
Have students identify the characters and analyze the setting, problem, and solution of The Ghost in the Tokaido Inn using this graphic organizer.

Discussion Starters for Any Book
Discussing a story with students is a critical part of any literature unit. Use these questions to push students to analyze the book they are reading.

The Ghost in the Tokaido Inn – Chapters Three and Four
Utilize these two chapters from The Ghost in the Tokaido Inn for reading comprehension practice, story prediction, setting visualization, and character portrayal.

Japan: Mapping Skills
To become familiar with Japan, students will use a map to take a trip around the country and its outer islands. Featured skills include understanding latitude and longitude, using cardinal directions, and reading maps.

Story Prediction from Vocabulary
After pre-reading The Ghost in the Tokaido Inn, select several vocabulary words and phrases. Fill out the prediction chart, photocopy it, and then distribute it to the students. Share the predictions before beginning the book.

Internet Resources

Ancient Japan
Grade Levels: Middle, Secondary
An excellent resource for information on ancient Japan. Highlighted features include history and chronology, gods and goddesses, sumo wrestling, and more.
http://http://www.crystalinks.com/japan.html
Origins of the Samurai
Grade Levels: Middle, Secondary
An extensive article on the history of the samurai, whose origins date back to 200 A.D. Included are background facts that will be helpful in teaching The Ghost in the Tokaido Inn.
http://www.judoinfo.com/samurai.htm


If you need to teach it, we have it covered.
Start your free trial to gain instant access to thousands of expertly curated worksheets, activities, and lessons created by educational publishers and teachers.
Start Your Free Trial