California State Map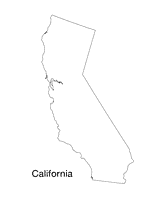 Blank outline map of California.
Grade Levels: Pre-K - 12

Galactic Hot Dogs Reading Marathon
Join the Galactic Hot Dogs Reading Marathon! Read each episode as it's re-released with newly revealed facts, behind-the-scenes illustrations, and the inside scoop. Make it official by pledging on the blog to read each chapter with Cosmoe. Your students will love following the exploits of these space travelers, and you'll love the educational elements that can easily be paired to the stories.
Handwashing Awareness
Kids are especially susceptible to contracting and spreading viruses during the winter months. Prevention starts with proper handwashing. Show students how to keep germs away.
March Calendar of Events
March is full events that you can incorporate into your standard curriculum. Our Educators' Calendar outlines activities for each event, including: National School Breakfast Week (3/2-6), World Orphan Week (3/4-11), Boston Massacre (3/5/1770), Daylight Saving Time Begins (3/8), International Women's Day (3/8), Teen Tech Week (3/8-14), Pi Day (3/14), St. Patrick's Day (3/17), Spring Begins (3/20), Make Your Own Holiday Day (3/26), and World Theatre Day (3/27). Plus, celebrate Deaf History Month (3/15-4/15), Music In Our Schools Month, Women's History Month, and Youth Art Month!
Poptropica Teaching Guides
Poptropica is one of the Internet's most popular sites for kids—and now it's available as an app for the iPad! It's not just a place to play games; each of the islands featured on the site provides a learning opportunity. Check out our teaching guides to four of Poptropica's islands: 24 Carrot Island, Time Tangled Island, Mystery Train Island, and Mythology Island.
Take Our Survey!
Help us improve TeacherVision by taking our brief survey. Thank you for your input!
Women's History Month
March is Women's History Month. Talk to your students about the accomplishments women have made—as well as the adversity they have faced.