The Keeping Quilt
by Patricia Polacco
Page 1 of 2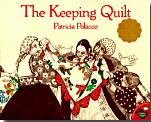 In this story, the Keeping Quilt is passed along from generation to generation. It is made from the clothing of family members who came to this country as immigrants. This quilt is used for a variety of things: as a tablecloth, as a wedding huppa, as a wrap for new babies born into the family. Throughout the book the quilt is in color, whereas the rest of the book is in black and white.


Enrichment Activities
Internet Resources
Books by Patricia Polacco
---
Enrichment Activities
Make a Class Quilt
This calls for quilt making, so have students design a classroom quilt. You can use white material squares and fabric crayons. Students can make self-portraits and print their names at the bottom. The quilt can be sewn together with a colorful border, just as in the book.


Patchwork Paper Quilts For a different type of quilt, one for which students use their own pieces of memorabilia, use our lesson entitled Paper Quilts.


Companion Books on Quilts There are many books about quilts, and this would be a good time to select some to read to students. Make a chart comparison for the books, listing the main characters, the setting, the uses for the quilt, and so on. Some good storybooks that contain quilts include these:

The Patchwork Quilt by Valerie Flournoy, with pictures by Jerry Pinkney
Eight Hands Round: A Patchwork Alphabet by Ann Whitford Paul, with illustrations by Jeanette Winter (extremely helpful to students for making designs)
The Quilt by Ann Jonas
My Grandmother's Patchwork Quilt, A Book and Pocketful of Patchwork Pieces by Janet Bolton (with actual pieces for students to trace onto cloth and sew)
The Seasons Sewn: A Year in Patchwork by Ann Whitford Paul, with illustrations by Michael McCurdy
Stitching Stars, The Story Quilts of Harriet Powers by Mary E. Lyons (a good resource for teachers)



Quilt Maker Visitor Invite a quilt maker to class to discuss the process and to demonstrate how it is done. Perhaps the quilt maker could "set up shop" in the classroom for a whole morning, so that students would be able to observe in small groups. Some children might be inspired to try quilting or needlework.


Family History "What is your family history?" Students can interview parents to learn about their ancestors. Perhaps a figure or design representing each person could be colored (or painted), cut out, and pasted to an individual "story quilt" done by each class member. The top of a large page could be used for the quilt, and the bottom could contain the text that explains the quilt.


Jewish Customs There are references in this book to Jewish customs that some children may not be familiar with. Explore the meaning of Sabbath, challah, and the traditions in Jewish weddings by exploring A Glossary of Jewish Terms.


Other Quilt Books Explore other books about quilts:
The Bedspread by Sylvia Fair
Bess's Log Cabin Quilt by D. Anne Love
The Boy and the Quilt by Shirley Kurtz
Crazy Quilt by Kristin Avery
The Josefina Story Quilt by Eleanor Coerr
The Quilt Block History of the Pioneer Days by Mary Cobb
The Quiltmaker's Gift by Joanne Larsen Line
The Quilt Story by Tomie de Paola
Sam Johnson and the Blue Ribbon Quilt by Lisa Cambell Ernst
Selina and the Bear Claw Quilt by Barbara Smucker
Sunflower Sal by Janet S. Anderson
Sweet Clara and the Freedom Quilt by Deborah Hopkinson

If you need to teach it, we have it covered.
Start your free trial to gain instant access to thousands of expertly curated worksheets, activities, and lessons created by educational publishers and teachers.
Start Your Free Trial