My Brother Sam Is Dead
by James Lincoln Collier and Christopher Collier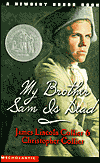 My Brother Sam Is Dead is a story about the hardships of war and how a young boy deals with a very difficult situation. Tim is torn between his father, who is loyal to the king of England, and his brother, who supports the Rebel cause. When his brother runs away and his father is captured, Tim has to run the family business.
Enrichment Activities
Books by James and Christopher Collier
---
Enrichment Activities
Books by James Lincoln Collier and Christopher Collier
The American Revolution, 1763-1783
Grade Levels: Intermediate, Middle
This book looks at the people and events involved in the Revolutionary War.
The Bloody Country
Grade Levels: Intermediate, Middle
A mid 18th-century family becomes involved in a property dispute after they move from Connecticut to Pennsylvania.
Jump Ship to Freedom
Grade Levels: Intermediate, Middle
Daniel and his mother are slaves in the house of Captain Ivers of Stratford, CT. The law says they should be free because Daniel's father, who is now dead, fought with the Revolutionary Army and earned enough in soldiers' notes to buy his family's freedom.
War Comes to Willy Freeman
Grade Levels: Intermediate, Middle
Willy Freeman's life changes forever when she sees the Redcoats kill her father. Then she returns home to find that the British have taken her mother to New York City as a prisoner. Willy disguises herself as a boy and sets out to save her mother.
The Winter Hero
Grade Levels: Intermediate, Middle
When the Revolutionary War ends, 14-year-old Justin is caught up in the disastrous Shay's Rebellion. Through his experiences as a soldier he learns the truth about heroism and war.
With Every Drop of Blood
Grade Levels: Middle, Secondary
This story describes the tale of Johnny, a young, white rebel soldier who is captured by Cush, a black Union soldier and runaway slave. As the boys get to know one another their views about the war and a person's skin color change.
If you need to teach it, we have it covered.
Start your free trial to gain instant access to thousands of expertly curated worksheets, activities, and lessons created by educational publishers and teachers.
Start Your Free Trial