Page 1 of 3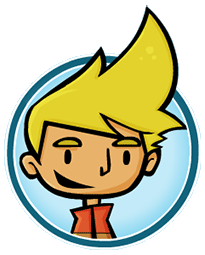 by Holly Poulos
Get ready to go on a cosmic adventure with the crew of Galactic Hot Dogs! This online comic, originally published exclusively on Funbrain (but now available in print!), features Cosmoe, Humphree, and Princess Dagger, purveyors of a hot dog business—in space! Your students will love following the exploits of these space travelers, and you'll love the educational elements this teaching guide aligns to the stories.
Funbrain.com, created for kids ages preschool through grade 8, offers more than 100 fun, interactive games that develop skills in math, reading, and literacy. Kids can read a variety of popular books and comics on the site, including Galactic Hot Dogs!
---

The Galactic Hot Dogs series is full of educational opportunities to share with your students. Enjoy the following lessons, classroom discussions, and activities in your classroom, and find out why comic books are so popular with kids! (You can also find
activities for chapters 1-4
.)

Formerly Known as Princess Dagger
Princess Dagger holds a pretty unique title—PRINCESS, of course—but she admits in episode 5 that she has no interest in actually being a princess. She wants to see the galaxy!



I want to go volcano diving and I want to watch mutant worm wrestling and I want to punch a rhuno gator in the nose and I want to—well—live!

Part 1: Choose one of the above items from the Princess's bucket list (that's a personal list of must-dos) and draw a picture of Princess Dagger fulfilling her wish! You can draw in the style of Galactic Hot Dogs or you can use your own artistic techniques. Be sure to include lots of details.

Part 2: Write a short story describing the event you chose for Princess Dagger. How does she get to fulfill her wish? (For example, write about the Princess acquiring tickets to the worm wrestling match, then watching the whole thing live.)

Charts & Consequences
Princess Dagger decides it's high time that this ship gets into shape. She creates a chore chart for the crew to follow. Do you have a chore chart at home? What kind of chores do you do? What about the other members of your family? Make a list.

As a group, discuss what types of chores need to be done around the classroom. Does someone erase the chalkboard, reshelve books, organize papers, water the plants? Make a list of all the small and large tasks that need to be done every day or week in your classroom. Then, create a chore chart on a piece of poster board, or start on the computer. Here's an example of how you can design the chart, but feel free to do what works best for the classroom: List all of the chores in the left column and each day of the week on the top row. Assign a student to each task; you'll probably need to rotate responsibilities from week to week. When the chore is completed, the task is marked with a sticker or check. Done!

Fore more practice with charts, explore the following:



Risking It All
When Humphree's pirate band starts sending out a distress signal, the crew follows the beeping to The Lost Triangle, a place where space explorers go to look for treasure... and never return. It's like a "spaceship graveyard." Cosmoe questions the intelligence of this move.

Would you risk it all for rumored treasure? Imagine you're on the Neon Wiener and you're faced with the choice of rescuing the pirate ship sending out the distress signal and possibly getting treasure as a reward... and getting lost in the triangle forever. What would you do? How would you make your case to the other members of the crew?

For a related activity on persuasive writing, try these exercises:

Get Lost
The Lost Triangle in the Galactic Hot Dogs series was probably inspired by the Bermuda Triangle on Planet Earth. Use the Internet (talk to your teacher about using reputable websites, such as The History Channel) to research the Bermuda Triangle.



Who's traveled to the Bermuda Triangle and gone missing?
Who's been and survived?
Where is it?
Do people still travel there? Why?
Find a map of the part of the world that includes the Bermuda Triangle and highlight the area on the map.

Far and Wide
Awww, smudge! Cosmoe needs to get to the lost pirate ship to look for the treasure... but that means going out into space. Alone. He admits that he's afraid.

I don't love being out in space alone. It reminds me of being in the ocean, back on Earth. And I hate the ocean. I mean, I only went to the beach once, but it gave me the big-time willies. It's just so endless.

So Cosmoe is afraid of the vastness of space and the ocean. Most people are afraid of something. What are you afraid of? As a class, write a list of the things your classmates fear. Or, write a list of some common things that scare people. For example: loud noises, the dark, spiders, etc. Can you think of ways that your friends can conquer their fears? Maybe they can learn about how most spiders don't attack unless they're being threatened.

These books and literature guides will allow you to further explore the concept of fear:



It Was a Dark and Stormy Night...
Galactic Hot Dogs author Max Brallier and illustrator Rachel Maguire create a very distinct mood or atmosphere in this chapter of the story. You can really tell how afraid Cosmoe is at this moment, even when he's not saying it directly. Can you look through the pages of Chapter 8 and find some elements of the story that create the mood? [Examples: "My heart is pounding." (page 2); zombie faces (page 3)] Then, complete the following worksheets.


If you need to teach it, we have it covered.
Start your free trial to gain instant access to thousands of expertly curated worksheets, activities, and lessons created by educational publishers and teachers.
Start Your Free Trial