Dawdle Duckling
by Toni Buzzeo
Page 1 of 2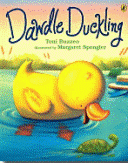 Introduction
Launch a lively water birds, ducks, or wetlands unit with the help of this curriculum guide to Dawdle Duckling, a story in verse about a little duckling who swims to the beat of his own drummer, paying attention to the small details and fun that can be had at every turn. Engage pre-K-4 students in an array of content-based Science and Language Arts activities linked to the story.
National Science Education Standards: Content Standards K-4
Dawdle Duckling has curriculum connections in both Science and Language Arts content areas. It may be used to address three of the six Science Content Standards K-4, as published by the National Research Council in National Science Education Standards:
A – Science as Inquiry

C – Life Sciences

F – Science in Personal and Social Perspectives
Standards for the English Language Arts
Dawdle Duckling also offers many curriculum connections in the Language Arts. It may be used to address 5 of the 12 standards published in Standards for the English Language Arts by the NCTE (National Council of Teachers of English) and the IRA (International Reading Association):
Standard 3 – Applying a wide range of strategies to comprehend, interpret, evaluate, and appreciate texts.

Standard 5 – Employing a wide range of strategies as they write and use different writing process elements appropriately to communicate with different audiences for a variety of purposes.

Standard 6 – Applying knowledge of language structure, language conventions, media techniques, figurative language, and genre to create, critique, and discuss print and non-print texts.

Standard 7 – Conducting research on issues and interests by generating ideas and questions, and by posing problems.

Standard 8 – Using a variety of technological and information resources to gather and synthesize information and to create and communicate knowledge.
Curriculum Summary
Many of these Science and Language Arts content standards can be addressed when working with Dawdle Duckling. In addition, Mapping the Cove addresses Social Studies standards, while many of the activities, particularly Researching Ducks, address Information Literacy standards.
Find Out More
About the Author:
Students may wonder what life experiences led Toni Buzzeo to write a duck story. Read more about her friend Mike and her son Chris and view photographs at her website: www.tonibuzzeo.com/booksdawdleduckling.html.
About Teaching About Ducks:
Explore the topic of duck teaching from the links on the author's website at: www.tonibuzzeo.com/booksdawdleducklingduckcurriculum.html.
About Wetland Habitats:
Consider subscribing to Ducks Unlimited Puddler magazine for children up to age 11. For only $10 a year, your class can join as a Greenwing member and receive four issues of the magazine. http://www.ducks.org/Support_DU/JoinDU/181/JoinDucksUnlimited.html
If you need to teach it, we have it covered.
Start your free trial to gain instant access to thousands of expertly curated worksheets, activities, and lessons created by educational publishers and teachers.
Start Your Free Trial