The Summer of the Swans
by Betsy Byars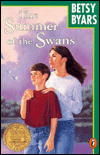 In the Newbery Award winning book The Summer of the Swans, Sara's life is turned upside down when her mentally retarded brother disappears. Her brother Charlie loves to go to the lake and watch the swans. Late one night he gets out of bed to follow them and becomes lost in the dark. What follows is a desperate search for the young boy and an unexpected friendship.
Enrichment Activities
Search the Internet
Books by Betsy Byars
---
Enrichment Activities
Character Chart
Students will analyze the main characters, their relationships with one another, and any distinct characteristics they may have using the Character Chart.
Comprehension Checks
Check your students' comprehension of the story with Test A, Test B, and Test C. Use the Answer Key for correcting.
Conflict Dissection
This graphic organizer will help students to study the story's setting, problem, and solution. Use the Conflict Dissection organizer.
Culminating Projects
Have your students design and complete a project to conclude the unit. Use the Summer of the Swans Projects sheet.
Writing Activity
Sara, the main character, has very low self-esteem. Have students use the Summer of the Swans Writing Activity to describe something they would change about themselves.
Search the Internet
Have your students find biographical information on Betsy Byars.
Have your students use a search engine to find photos of swans.
Use a word puzzle tool to create a word puzzle using vocabulary words from The Summer of the Swans.
Books by Betsy Byars
After the Goat Man
The Ant Books
Beans on the Roof
The Bingo Brown Books
The Blossom Family Books
The Cartoonist
Coast to Coast
The Computer Nut
Cracker Jackson
The Cybil War
The 18th Emergency
The Glory Girl
The Golly Sister Books
Goodbye Chicken Little
The Herculeah Jones Mysteries
The House of Wings
The Joy Boys
McMummy
The Midnight Fox
The Moon and I
The Night Swimmers
The Pinballs
The Seven Treasure Hunts
The Summer of the Swans
Tornado
Trouble River
The TV Kid
The 2000 Pound Goldfish
The Winged Colt of Casa Mia