This guide to Mythology Island will help kids discover Greek mythology as they explore Mount Olympus with Apollo, Athena, Hercules, Zeus, and the other gods who will be referenced throughout a lifetime of reading.

Poptropica is one of the Internet's most popular sites for kids—and now it's available as an app for the iPad! It's not just a place to play games; each of the islands featured on the site provides a learning opportunity.
Page 2 of 3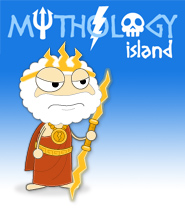 Print the following worksheets to assign as homework, or project them on your interactive whiteboard to complete with your class.
Virtual Vocabulary
There are many words spoken by the characters on Mythology Island that may be unfamiliar to students. Here are some of the vocabulary words featured on the island that you might want to cover. Ask students to define each word; then, use the word in a sentence.
*See alignment to the Common Core State Standards




Ancient Gods and Goddesses
There are many gods and goddesses on Mythology Island, all with a different realm of power. In the following worksheet, match the gods and goddesses with their roles—the first one is done for you. (For a comprehensive list of Greek and Roman gods, see this article: /mythology/greek-and-roman-gods.)



Music of the Gods
During the adventure, our hero learns to play a tune on a reed, a type of musical instrument called a woodwind. Discuss the different instrument families with an activity in which students classify each instrument as a member of a particular family. Then, learn more about music and musical instruments.