May 2015 – New Content on TeacherVision®
*Updated May 1, 2015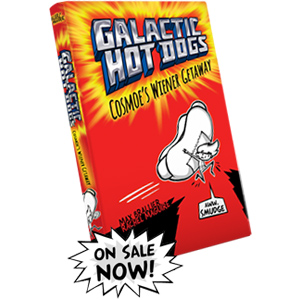 End-of-the-year excitement can disrupt the usual lesson plans. Keep students on track with daily reading. Assign a chapter from Galactic Hot Dogs each night for homework. Read each episode with your students; reluctant readers will enjoy following the exploits of Cosmoe and his friends as they travel the universe on a mission to make the galaxy a better place.
Track students' reading progress at home or school with a printable reading log. We've put together Galactic Hot Dogs teaching resources you can easily pair with the stories. To get started, browse our Galactic Hot Dogs teaching guides, vocabulary reviews, and activities for writing and illustrating comics. Plus, students can buy their very own copy of book 1 in the Galactic Hot Dog series! The print version is available now at bookstores nationwide. Enjoy!
Sparked students' interest in discovering new books? Check out our large selection of summer reading picks, perfect for a summer break filled with fun and learning.
Best Wishes,
The Editors of TeacherVision®