February 2015 – New Content on TeacherVision®
*Updated February 5, 2015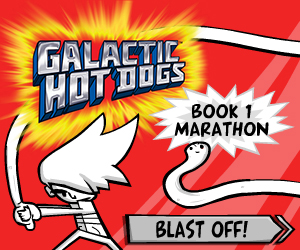 Snow days can disrupt lesson plans. Keep students on track with daily reading. Assign a chapter from Galactic Hot Dogs each night for homework. Read each episode with your students as it's re-released with newly revealed facts and behind-the-scenes illustrations. Reluctant readers will enjoy following the exploits of Cosmoe and his friends as they travel the universe on a mission to make the galaxy a better place.
Track students' reading progress at home or school with a printable reading log. We've put together Galactic Hot Dogs teaching resources you can easily pair with the stories. To get started, browse our Galactic Hot Dogs teaching guides, vocabulary reviews, and activities for writing and illustrating comics.
In March 1965, protesters began a historic march from Selma to Montgomery, Alabama. They were met with violent resistance by segregationists and state and local authorities. Granddaddy's Turn and Seeds of Freedom share stories of ordinary people overcoming the constraints of racism that were particularly prevalent in the South during the 1960s. These picture books are an excellent starting point for teaching elementary students about the Civil Rights Movement in the United States. Download a new teaching guide with Common Core-aligned language arts activities, book discussion questions, and vocabulary instruction for each book.
Find more teaching resources for Black History Month on TeacherVision. For more February lesson ideas, visit our 2015 Educators' Calendar.
Best Wishes,
The Editors of TeacherVision®