April 2015 – New Content on TeacherVision®
*Updated April 8, 2015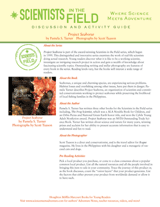 Spring is here! This is truly something to celebrate. Perhaps you could indulge students' love of the outdoors with a fresh air literature lesson. Our new literature guides will spark critical thinking, intelligent discussion, and provide students with entertainment in the form of games, crafts, and adventure. Enjoy Call Me By My Name Curriculum Guide, Katerina's Wish Curriculum Guide, No Summit Out of Sight Curriculum Guide, Saving Kabul Corner Curriculum Guide, Space Case Curriculum Guide, Storm Curriculum Guide, Keeper of the Lost Cities Curriculum Guide, The Crossover, After the River the Sun Classroom Guide, Silver People, and The Magic Trap.
Fans of Jacqueline Davies's The Lemonade War will delight in reading the rest of the series: The Candy Smash and The Lemonade Crime. Lois Lowery continues the themes established in the eternally popular The Giver with the novels Messenger and Gathering Blue.
Lastly, connect science and literature with Scientists in the Field: Once a Wolf and Scientists in the Field: Project Seahorse.
Find more teaching resources for teaching literature on TeacherVision. For more April lesson ideas, including activities for National Poetry Month and Math Education Month, visit our 2015 Educators' Calendar.
Best Wishes,
The Editors of TeacherVision®