Citizenship Test I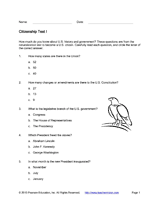 Could your students pass the U.S. Naturalization Test? Give them this quiz to find out!
Grade Levels: 5 - 12
View Printable
Help with Printables


Provided by Infoplease—an authoritative, comprehensive reference website that offers an encyclopedia, a dictionary, an atlas, and several almanacs. Visit Infoplease.com to find more resources endorsed by teachers and librarians.