New Year's resolutions are an important part of our personal and work lives. TeacherVision Head of Content & Curriculum, Monica, shares her approaches to creating New Year's teaching resolutions.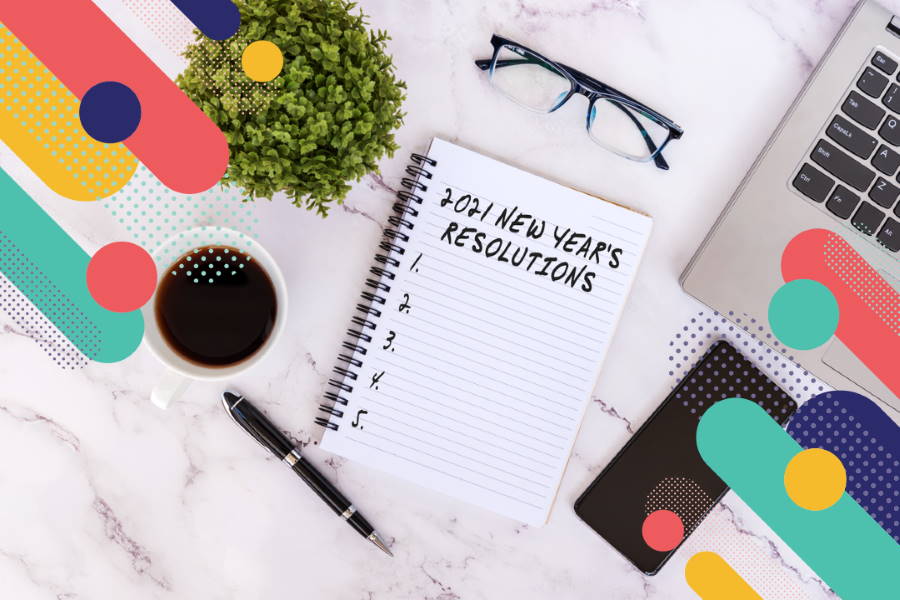 2021—I can't believe it's here!
I'm sure that many of you, as teachers, would echo this sentiment. . .After a year of worrying, trying to stay safe and healthy, and pushing our professional lives to their utmost limit, we can now breathe a collective sigh of relief with the prospect of some semblance of normalcy with the COVID-19 vaccine coming soon.
Let's take this month to reflect, dissect, and reconnect.
Reflection is the process that makes us look inward to become better people. Dissection is the thing that forces us to break it all down, examine it, and rebuild it. And, reconnection is the thing that allows us to fortify our relationships with others to make us strive for better. So, keep reading for my New Year's resolutions—I'm hoping that they inspire you to create your own!
1. Focus on the Wins, not the Losses!
It would be easy after the year we've all had to focus on what didn't go right—the curriculum you didn't get to; the follow-up you weren't able to do with your students or their parents; the lost time and conversations that you used to look forward to with colleagues; and so on. However, what good does that really do for your psyche? The answer is none! 
Instead of fixating on what you didn't get to or weren't able to accomplish with your students or your colleagues in 2020, focus on what you did get to and the impact that you did make. Believe it or not, your peers, your supervising practitioners or administrators, and your students have noticed all that you have done for them during this difficult time and recognize your perseverance and the time you put in while keeping the class afloat! 
2. Create Realistic Goals
I think that all of our teacher goals have changed this year with the worldwide shift caused by COVID. While SMART goals still need to be "smart" for our evaluations, it is also important to give yourself a little more wiggle room, or refocus your goals so they are flexible enough to fit the evolving learning environment and education paradigm shift.
When thinking of formulating your teaching goals for this school year (if you haven't already), sit down with a colleague, your mentor, a content coach or curriculum coordinator, or even the evaluator who will be scoring you on the evaluation rubric beforehand. This way you can discuss your goals before solidifying them in writing and committing to things that may be difficult—or impossible!—to meet.
3. Challenge Your Own Notion of Balance
Striking the right balance has become more of a lofty goal since the pandemic started. Whether trying to manage both in-person and hybrid cohorts of students, or shifting fully to a remote learning platform, or even working in your school building with new protocols, classroom set-ups, and the fears that go along with all of that, teachers were literally spent when December vacation finally came! 
As a result, balance and self-care became more than buzzwords in 2020—they were, and continue to be, essential for all of us. Support systems for time management, check-ins, and even seeking counsel from colleagues or healthcare professionals are of the utmost importance in order to survive and weather all of the necessary responsibilities thrown at you this school year.
4. Take Charge and Recharge!
You may be returning to school this week still feeling more frazzled than refreshed. And the thought of resuming 12-hour days to teach, plan, correct, and grade is enough to make you shudder. We all know that going full steam ahead all the time will have detrimental and long-lasting repercussions and will actually cause us to be less productive!
Taking the time to recharge often will refuel your mind, body, soul, and spirit. More than ever, it is critical to make time for yourself and relax—whether that means doing an online yoga, fitness, or meditation class; going for socially distanced walks with colleagues; hosting a virtual book club or online social hour; among others...I can't stress enough [no pun intended] how important it is to take a break! 
5. Save Energy for What You Can Control
When I taught, I know that a lot of my energy was sapped by worrying—worrying about exceeding my SMART goals, meeting the demands of my students, getting to everything on my schedule, including meetings with teammates, content colleagues, my mentor, my curriculum coach, Special Ed teachers and other specialists, my administrators, and parents of my students! Well, like much of the wisdom we impart on our students, we don't always practice what we preach. And, many of us have learned in life that there are many forces that are beyond our control.
The same is true for our classrooms—we can't plan for or dodge every curveball thrown our way. There will always be unhappy students and/or parents, deadlines that we can't meet, expectations that we can't uphold, and energy that we just can't muster up. But, what matters is not to lose sight of the important stuff: moving your students' learning forward, growing as a professional, and preserving your own sanity and health so that you can be the most effective teacher you can be.