TeacherVision Advisory Board Member Jessica shares some of her favorite activities to for the elementary classroom during the Thanksgiving season.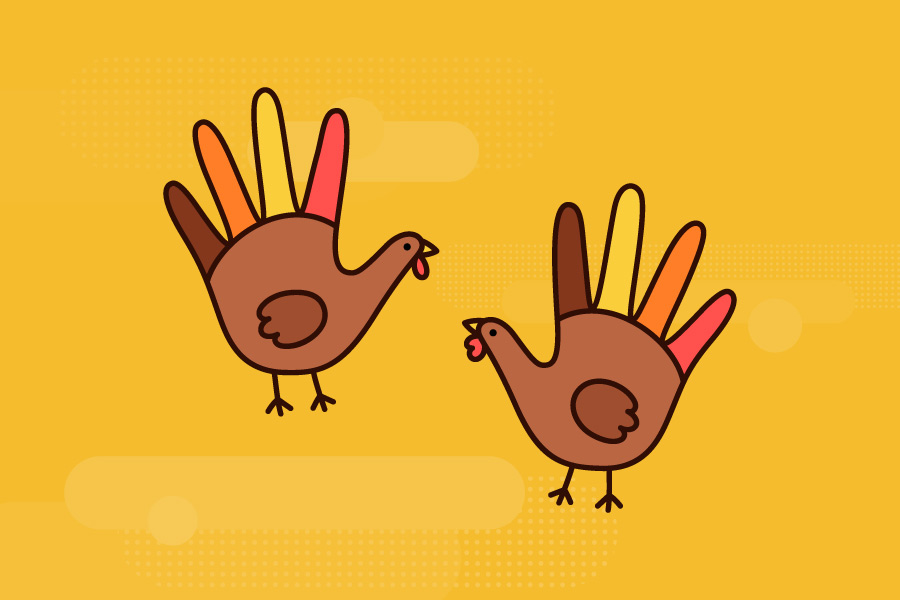 Celebrating Thanksgiving in the elementary classroom is so much fun. There are truly so many awesome activities that you can do with your students. The main goal is for your students to develop an understanding of the history of the holiday, and to help reinforce the important social-emotional concepts of gratitude and empathy.
I have had fun introducing interesting activities in my classroom for Thanksgiving. These are simple activities that my students love and help them remember why we celebrate Thanksgiving.
Teach the History of Thanksgiving
Sharing the basic history behind the holiday is a great place to start with most elementary students, and it's likely that you'll have done so with a unit on Colonial America.
The cultural diversity of today's classrooms likely means that some of your students from other countries may not have first-hand knowledge of the history or the holiday tradition.
If not already part of your curriculum, there are plenty of resources available that detail the history of Thanksgiving.
Celebrate the Cultural Connection
The initial Thanksgiving celebration centered around a multi-day feast involving European settlers (Pilgrims) and members of the various local indigenous populations (Native Americans), the spirit of which was the sense of gratitude the Pilgrims felt at having survived a year in the harsh New World. Part of that thankfulness was extended to the members of the Wampanoag population who helped the settlers adjust in a variety of ways.
You can replicate the essence of the cross-cultural connections of the first Thanksgiving by staging your own version of the feast in your classroom and having students roleplay the participants. While it has been customary in the past to have students dress in headgear or other apparel designating them as "Pilgrims" or "Native Americans," there are many other ways to separate students into groups representing the two populations. For example, instead of having students dress in the "Native American headdress/headband" common to (incorrect) period depictions of the first Thanksgiving, they can represent the Wampanoag who attended the feast with depictions of eagles ("thunder birds") or the "3 Sisters" crops (maize, beans, squash). Both were important to indigenous North American cultures in general, and to the Wampanoag of the area specifically.
During the feast, students can gather with other classes and you can designate who's dressing like the Pilgrims and who will dress like the Indians. Then, practice having a feast just like they did during the first Thanksgiving. Students can eat crackers, fruit, cheese, and raw vegetables like carrots. To enhance the activity, have each group decide on one thing they are thankful for so far in the school year, and allow each group to discuss.
Don't Forget About the Turkey
One of the biggest things we think about when it comes to celebrating Thanksgiving is the turkey! If you ask your students to name a Thanksgiving food, one of the first foods to be mentioned will probably be the good ol' turkey.
A fun activity to do with your students is to have them create their own "handprint" turkeys. This activity is seriously as simple as it sounds. Paint the palm of each student's hand and have them put their hand down on a piece of white paper. After the paint dries, create a turkey face on the thumb print and have the students write something they're thankful for on every other finger.
Sing Thanksgiving Songs
The music teacher in me obviously loves this idea. There are so many Thanksgiving songs that you can sing with your students in your classroom, or that they can listen to while creating their handprint turkey crafts.
Two of my favorite Thanksgiving songs to are "(I'm Gonna Eat) On Thanksgiving Day" and "We Are Thankful". These songs are super-simple to learn and your students will love them. It also opens the door to talking about what your students are thankful for and they can even write notes to different adults who work in the school.
Read Stories About Thanksgiving
There are so many great books about Thanksgiving you can read to your students. One of my favorite stories about Thanksgiving is The Magic Treehouse Thanksgiving on Thursday. This is a great chapter book that takes the main characters back in time to experience the first Thanksgiving.
After reading Thanksgiving stories together, and celebrating with a feast and a craft, let students share some of their favorite Thanksgiving traditions. They can then take turns going around the room and telling each student what they're thankful for about them.
There are so many creative ways to celebrate Thanksgiving with your students! Have fun with it and use some of the activities discussed in this post.
How do you celebrate Thanksgiving in your elementary classroom? Share with us on Instagram, Facebook, Twitter, and Pinterest.
Jessica Peresta is passionate about providing other music teachers, especially those right out of college or new to teaching elementary music, with the music education resources, lesson plans, teacher training, and community you've been looking for. She believes your domestic life outside of school should be spent soaking up time with family and friends and your music teacher life while at school should not leave you feeling defeated, but should be a joyful, exciting, and rewarding experience. To find out more about Jessica and her passion, head to The Domestic Musician.