Use this slideshow to illustrate the different kinds of nests birds build-and the variety of material they use in building them.
Excerpted from
Eyewitness: Bird
An in-depth, comprehensive look at the world of birds with a unique integration of words and pictures.
Receive 20% off your DK purchase with promo code DKCLIP.
Objective
Students will learn that different birds build different kinds of nests—and they use a variety of material in doing it.
Suggested Time
15 minutes
Reading Level
Upper Elementary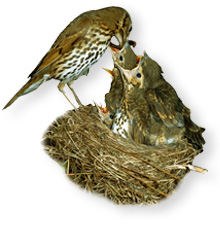 Teacher Background
Nest building is a job with two parts that are done at the same time: collecting the materials and fashioning them into the finished nest. The
Read more
Continue the Conversation
Ask students to talk about the kinds of bird nests they've seen. Find out if anyone has seen one in an unusual location. Ask students if they think most bird nests take a long time to build. (Most will probably agree that they do because the bird can only carry a little bit at a time.)
Write about it
Have students nominate a bird for "best nest builder." Students should describe why their bird should win the award-including details about the nest-building material the bird uses.
Lesson Contents
TEACHER RESOURCES
Extension Activities
Reinforcements
Word Power Vocabulary
Grade: 4 - 6
Students practice vocabulary relevant to birds and building nests by using each defined word in a sentence.

Nature's Weavers
Grade: 2 - 4
Have your students show their knowledge of bird nests with this drawing activity.