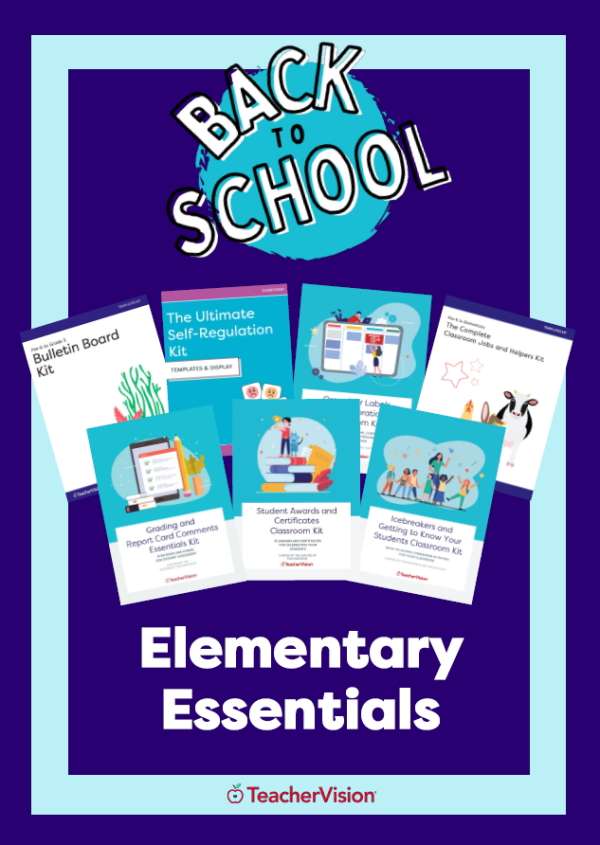 Purchase or subscribe to access this resource.
$20.00
Included with a Premium Membership
Subscribe for instant access to this and every resource on TeacherVision.
Subscribe
Get a FREE subscription and a back to school bundle for just $20!
Save yourself time and money with our special offer: a bundle of essential packs and printables for the elementary classroom – Plus a FREE subscription!
This great value bundle combines the best of our elementary printable kits, covering everything from icebreakers, bulletin boards, and classroom organization to student awards, grading strategies, and social-emotional learning.
This Is An Offer You Won't Want to Miss
We're extending our special offer of over 60% off Back to School bundles, plus we're throwing in a 12-month individual subscription for FREE!
Get Your Free Subscription Now!
Simply purchase the Elementary Essentials Bundle, and you'll receive a code (by email) for a subscription that is FREE for the first 12 months. Enter the code at checkout and start downloading all the resources you need!
What's in the Bundle?
We've selected the best of our printable kits to support elementary teachers with their back to school preparations. Find out more about what's included in the Elementary Essentials bundle below.
Icebreakers and Getting to Know your Students Classroom Kit
Fun and engaging icebreakers and getting to know you activities for elementary students including instructions, teaching ideas, and printables for easy, no-prep activities.
Organizer Labels and Decorations Classroom Kit
Everything you need to get your classroom organized and looking great for the new school year. Choose from fun designs or customize your own with printable templates.
Complete kit of ready-to-use printables to make the ultimate welcome back bulletin board for your elementary classroom – all with a cute "under the sea" theme!
The Complete Classroom Jobs and Helpers Kit
Empower students and get your classroom in order with these printable templates for organizing classroom helpers and assigning jobs to your students. All with a fun animal theme!
The Ultimate Self-Regulation Kit
Help students build all-important social-emotional skills with this kit of self-regulation printables and activities, including everything you need to create the perfect calm-down space in your classroom.
Student Awards and Classroom Certificates Kit
Celebrate and reward your students throughout the year with this huge pack of ready-to-use and customizable student awards and certificates.
Grading Strategies and Report Card Comments Essentials Kit
Over 90 pages of report card comment examples, tips and advice, and printables to support you with grading and reporting all throughout the school year.