Use this slideshow to introduce students to the Arctic and some of its unique animals.
Excerpted from
Eyewitness: Arctic & Antarctic
Discover the icy wastes of the polar regions and the remarkable plants and animals that survive in such hostile conditions.
Receive 20% off your DK purchase with promo code DKCLIP.
Objective
Students will learn about the interesting adaptations that help some Arctic animals survive.
Suggested Time
15 minutes
Reading Level
Upper Elementary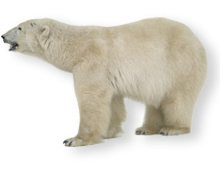 Teacher Background
The two polar regions at the very ends of the Earth are among the coldest, windiest, and most remote places on the planet. A huge, frozen
Read more
Continue the Conversation
Ask students to speculate why it's often difficult to gather detailed information on Arctic animals. (Harsh climate makes observation difficult, long migrations make animals hard to track, etc.)
Write about it
Ask students to pretend they are writing a travel brochure for the Arctic region. Have them use persuasive writing to try to convince potential travelers why they should visit such a cold environment.
Lesson Contents
TEACHER RESOURCES
Extension Activities
Reinforcements
Animals of the Arctic Word Power
Grade: 4 - 6
Students practice vocabulary relevant to Arctic animals by reading the definition and using the word in a sentence.

The Arctic
Grade: 5 - 8
Students use what they know about the Arctic along with reference materials to fill out an Arctic region knowledge chart.