Use this slideshow to introduce students to life in ancient Greece. This mini-lesson presents a general overview of how the roles of men and women were different during ancient Greek times.
Excerpted from
Eyewitness: Ancient Greece
This book provides an in-depth, comprehensive look at the history and culture of ancient Greece with a unique integration of words and pictures.
Receive 20% off your DK purchase with promo code DKCLIP.
Objective
Students will learn how the roles of men and women were different during ancient Greek times.
Suggested Time
15 minutes
Reading Level
Upper Elementary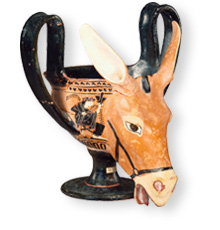 Teacher Background
The land of Greece is made up of mainland Greece and the numerous islands scattered throughout the Aegean and Adriatic Seas. It is a
Read more
Continue the Conversation
Ask students if they think it would be a good idea for modern day soldiers to have to pay for their own equipment. Have them explain their positions with supporting reasons.
Write about it
Have students write a paragraph describing what they think they would've liked and disliked about ancient Greek society if they had lived back then.
Lesson Contents
TEACHER RESOURCES
Extension Activities
Reinforcements
Life in Ancient Greece Word Power
Grade: 4 - 6
Students practice vocabulary relevant to life in ancient Greece by using each defined word in a sentence.

A Greek Education
Grade: 3 - 6
Students learn how boys were educated in ancient Greece, write using the Greek alphabet, and match each Greek educator to his job.