American Revolution Books by Jean Fritz
Page 1 of 2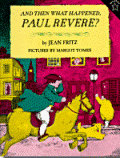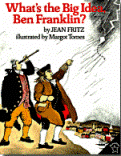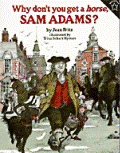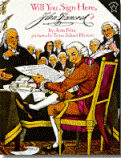 Jean Fritz is often asked where she finds the ideas for her books. Her answer is always this: she doesn't find the ideas; the ideas find her. Ms. Fritz's American Revolution books have given children an adventurous look into the lives of George Washington, King George, Paul Revere, Ben Franklin, Sam Adams, John Hancock, and Patrick Henry. Explore America's past with great lessons and activities that complement this award-winning series of books.
Enrichment Activities
Internet Resources
Books by Jean Fritz
---
Enrichment Activities
All About the Boston Tea Party
The Boston Tea Party was a crucial turning point for the Colonists. Use this reading comprehension practice to review students' knowledge about this important event.


Colonial Times Quizzes
Students can take these Colonial Era quizzes online, or you can print them out for assessment.


Declaration of Independence and Parts of Speech
Have students practice parts of speech while reinforcing their knowledge about the Declaration of Independence.


Everyday Things
Students learn about everyday things used during Colonial times while completing this worksheet.


Exploring Feelings
Ask some of the students who were in your classroom last year to make up rules that your current students must follow for two days. At the end of the "experiment," discuss with your current students their feelings about having to follow the rules of "outsiders." Compare their experience with what the Colonists experienced just before the Revolution.


Famous Figure Museum
Assign pairs of students to focus on one of the famous people in Jean Fritz's Revolutionary War books. Have the pairs collect or create personal belongings that the famous figure might have had, and display them in a museum setting. As a fun bonus feature, have the students dress up like their famous person.


Heritage Handwriting
Have students practice their cursive handwriting while reinforcing Colonial times vocabulary words.


Jean Fritz American History Books
Penguin Putnam has provided this collection of creative ways to incorporate Jean Fritz's books into your Revolutionary/Colonial Era curriculum.


Paper Weaving
Fabric weaving was a popular and essential way to make clothing and bed linens during the Colonial Era. Use this lesson plan to teach students the art of paper weaving, an activity similar to the one used in the Colonial Era.


Revolutionary War Newspaper
Have students divide up into teams and produce a class newspaper that might have been published during the Revolutionary War. At least two teams should do "hard news," with appropriate headlines. Other teams could write ads, household hints (cleaning tips and recipes), and editorials. Don't forget to choose a name and design a masthead for your paper.


Symbols of the United States
Discuss with students the significance of the symbols of our country. Then have students draw several of them, using the Symbols of the United States worksheet.


Unfair Taxation
Develop a token system of rewards for work or good behavior. Tell students that they can use the tokens to buy items during a classroom auction. When most students have a few tokens, begin taxing them to use the bathroom, drinking fountain, paper, and so on. Compare their feelings to those of the Colonists.
If you need to teach it, we have it covered.
Start your free trial to gain instant access to thousands of expertly curated worksheets, activities, and lessons created by educational publishers and teachers.
Start Your Free Trial